We created our liquid soap because people were asking for it, although personally I am more passionate about bar soap. This was a long time in development and we achieved a great recipe with simple ingredients, completely natural and that leaves the skin super soft.
I like to have a bottle next to the kitchen sink for washing my hands when preparing meals. My daughter loves it in the shower with her shower sponge.
Our 200ml bottle lasts a long time. It isn't always easy for us to sell the first bottle of liquid soap to a client, but once they try it, they usually come back from more.
We recently started selling it without the pump top, in order to minimize the use of plastic. We now well the pump top separately, as an extra and suggest that you save it and reuse it the next time you purchase. Less waste!
I get asked if it has suds. Of course it does!! The natural suds that come from coconut oil in bar soap as well. Probably fewer suds than artificial shower gel with foam boosters, but it depends on how you build them up. You need patience for full enjoyment! Squirt a little into your hands, add water and rub and rotate your hands patiently until you get some nice enjoyable suds. Or on a shower sponge, abundant suds and bubbles come up right away.
We first released our liquid soap with our Andaluz scent, same as our Andaluz soap bar, with essential oils of spearmint, rosemary and lavender and the following year we released a new version with the same scent as our lemon sea salt soap, with essential oils of Lemon, Lemongrass and May Chang.
Also, by special order, we prepare 1 litre bottles for refilling.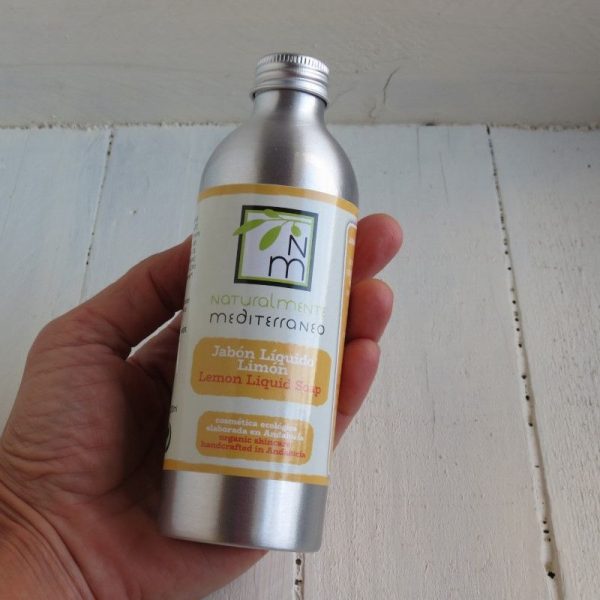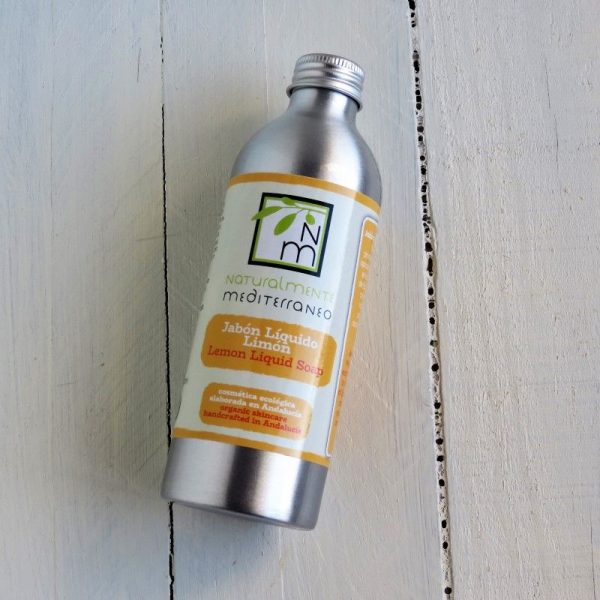 HOW TO USE AND CARE FOR YOUR LEMON LIQUID SOAP
Squirt 1 or 2 pumps of soap onto your hands or sponge, add water, rotate in your hands to build up a lather and apply directly on the skin. Rinse with water.
Keep in a cool area away from direct sunlight.
Key ingredients of our lemon liquid soap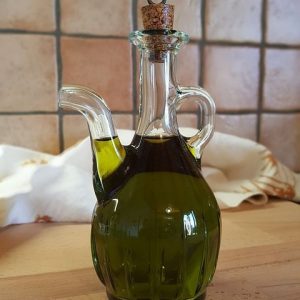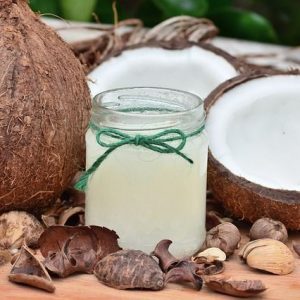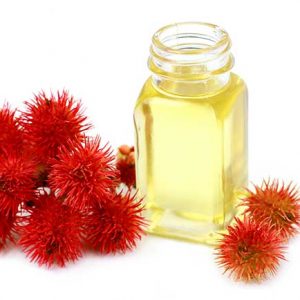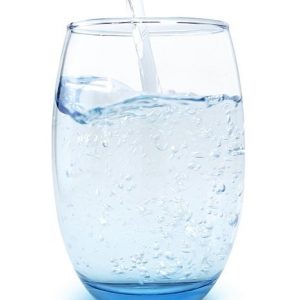 Sea Salt, Pure Aromatherapy Essential Oils of Lemon*, Lemongrass, May Chang
Ingredients marked with (*) are certified organic.
Aqua, Olea Europaea (Olive) Fruit Oil*, Cocos Nucifera (Coconut) Oil*, Potassium Hydroxide, Ricinus Communis (Castor) Seed Oil*, Glycerin, Sea Salt, Litsea Cubeba (May Chang) Fruit Oil, Cymbopogon Flexuosus (Lemongrass) Oil, Citrus Limon (Lemon) Peel Oil*, Citric Acid
Ingredients marked with (*) are certified organic.
FREE SHIPPING WITHIN SPAIN!*
FOR ORDERS OVER 50€
*This offer applies to mainland Spain & the Balearic Islands, Not the Canary Islands, Ceuta or Melilla
IF YOU PURCHASE 5 SOAPS OR MORE,
WE WILL INCLUDE A CLOTH BAG AS A GIFT!!
IF YOU PURCHASE 5 SOAPS
OR MORE,WE WILL INCLUDE A CLOTH BAG AS A GIFT!!